Supplying customers throughout the UK and Worldwide...
Like and Subscribe on YouTube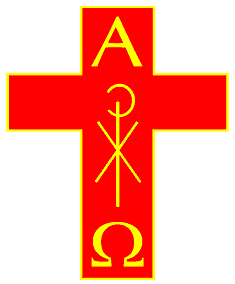 +44 (0) 1670 362647 / +44 (0) 7774 031055
Suppliers of church furnishings, consumables, garments and much more...
The chasuble is the outermost liturgical vestment worn by clergy for the celebration of the Eucharist in Western-tradition Christian Churches that use full vestments, primarily in the Roman Catholic Church, in the Anglican churches, and in some parts of the United Methodist Church. It is also used as the primary Eucharistic vestment in many Lutheran parishes. In the Eastern Churches of Byzantine Rite, the equivalent vestment is the phelonion.
"The vestment proper to the priest celebrant at Mass and other sacred actions directly connected with Mass is, unless otherwise indicated, the chasuble, worn over the alb and stole" (General Instruction of the Roman Missal, 337). Like the stole, it is normally of the liturgical colour of the Mass/service being celebrated.
The chasuble originated as a sort of conical poncho, called in Latin a "casula" or "little house," that was the common outer traveling garment in the late Roman Empire. It was simply a roughly oval piece of cloth, with a round hole in the middle through which to pass the head, that fell below the knees on all sides. It had to be gathered up on the arms to allow the arms to be used freely.
We offer a large range of remarkably stylish, keenly priced vestments. Designed with practical, everyday use in mind, most of our vestments are easy to care for and may be gently machine washed. You may also like to add a degree of weight and drape to your garment by adding a lining to the vestment which will also act to protect the outer fabric.
Should you require linings to vestments , simply select from the drop-down menu for each product where this option is offered.
We are able to offer all styles in various neckline designs - so for example if you prefer a standard, woven chasuble design but perhaps wanted a Semi Gothic neckline instead, we can make the garment to your specification.
We can mix and match all styles and designs - just simply tell us what you require.
"Thou shalt put on them the holy vestments, that they may minister to me, ​and that the unction of them may prosper to an everlasting priesthood."

​ – Exodus 40:13
semi gothic style chasubles
woven fabric style chasubles
embroidered fabric style chasubles
Round neckline, various styles and colours offered
A range of standard woven fabric style chasubles
A range of beautifully embroidered fabric style chasubles
A fuller style conical shaped chasuble range
Chasubles suitable for all Marian celebrations
wedding ceremony chasubles
A range of Chasubles suitable for celebrating marriage ceremonies
roman style "fiddleback" chasuble sets (5pc)
5pc Roman style Chasuble sets in all colours and styles, woven, damasks and embroidered designs
High mass sets - all styles
lent, easter, advent chasubles
A range of St Philip Neri style cut chasuble sets
A comprehensive range of Roman and Gothic style High Mass Sets which include Chasubles, Dalmatics and/or Tunicles, Copes, Humeral Veils, Burses, Maniples and Chalice Veils. Save £'s
A small range of Monastic style chasubles in various fabric styles
A small range of deluxe Chasubles suitable for these occassions
A range of covers suitable for all garments/vestments
Suitable for a wide range of vestments including Chasubles
Advice on buying your chasuble and what the different colours mean...