Supplying customers throughout the UK and Worldwide...
Like and Subscribe on YouTube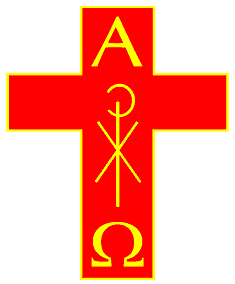 +44 (0) 1670 362647 / +44 (0) 7774 031055
Suppliers of church furnishings, consumables, garments and much more...
Anglican Bishop Rochet & Chimere
A chimere is a garment that was formally worn as part of academic dress, or by Anglican bishops in choir dress.

A descendant of a riding cloak, the chimere resembles an academic gown but without sleeves, and is usually made of scarlet or black cloth. In modern English use the garment is worn as part of the ceremonial dress of Anglican bishops. It is a long sleeveless gown, open down the front, gathered in at the back between the shoulders, and with slits for the arms. It is worn over the rochet, colored either black or scarlet (a combination referred to as "convocation robes").


In the Anglican Church the rochet is a vestment peculiar to bishops, and is worn by them in choir dress, with the chimere, both at all times of their ministration in church and also on ceremonial occasions outside, e.g. sitting in the House of Lords, attending a royal levee, or commencement ceremony. It may be worn with a stole, cope and mitre for more dignified occasions (such as Baptism outside the context of the Eucharist, Solemn Evensong, royal weddings and the coronation of the Sovereign).
​
We are able to offer you the Anglican Bishop attire in the form of a Rochet and Chimere. Both of these items are made to order so please allow up to circa 4 weeks for completion of your order.

We will require various measurements from you to enable your garments to be crafted to suit.

The Rochet is made from high quality polycotton with ruffled cuffs and comes complete with detachable wrist bands in red and black

The Chimere is offered in either scarlet red or black and is made from 45% wool and 55% polyester. Gathered at the back with front and rear strings
​
Please allow us 4 weeks to craft your order in our workshop

Anglican Bishop Rochet: ROCH
​
Anglican (Church of England) Bishop's Rochet.
​
Rochet in White Poly/Cotton. Complete with frilled cuffs and with Red & Black Bands (detachable).
​
Normally Worn underneath Chimere (Black or Red), available to buy separately and as shown.
Made to suit the Height and Chest of the Wearer.
Anglican Bishop Chimere: CHIM
​
Anglican (Church of England) Bishop's Chimere.
Bishop's Chimere in Red or Black 45% wool & 55% polyester. Beautifully made garment, gathered at the rear with front and rear strings for fastening and retaining Preaching Scarf
Anglican Bishop Rochet & Chimere
Rochet & Chimere
Anglican Bishop Rochet & Chimere
Black Chimere with white Rochet
Anglican Bishop Rochet & Chimere
Red Chimere with white Rochet
Anglican Bishop Rochet & Chimere
Rochet & Chimere
For Preaching scarf and preaching bands, please see the relevant pages