Supplying customers throughout the UK and Worldwide...
Like and Subscribe on YouTube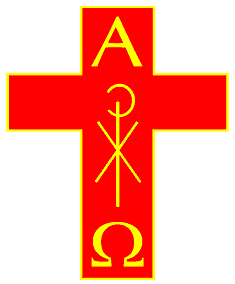 +44 (0) 1670 362647 / +44 (0) 7774 031055
Suppliers of church furnishings, consumables, garments and much more...
Italia Range Pectoral Cross Cords
The Pope, the cardinals, bishops and other prelates, as well as clergymen (abbots, provincials) wear their pectoral cross on top of their choir cassocks. The cord holding the cross in place is woven with golden string. Its colour is indicative of the rank, status and affiliation. There are also parishes where the altar servers wear a medallion with a depiction of the parish's patron saint, Holy Mary or a little cross held by a single coloured cord (which will match the robe in colour).

Usage:
A noose of cord is attached to a tassel. The two parallel cords are bound together by locking devices. One of these devices is situated almost directly above the hook holding the pectoral cross at the front. The second one is below the throat, the third one in the neck. The tassel hangs down at the back.

Used by Bishops, Cardinals & Abbots (but not limited to) of the Roman Catholic church to fix their pectoral cross.
Worn with Choir Dress.
​
You can see below a range of Pectoral Cords s, all of which are made in Italy and constructed from the finest materials, gold plated hardware and silk & metalised threads.
​
To order with a leadtime of circa 7 days.
​
Contact us if you require a specific colour not shown as we may be able to make this for you.

Prodotti di Cordoni pettorali
Italia Range Pectoral Cord: IT-PECTC-01

Italia Range Pectoral Cross Cord. Red/Gold with tasselled and "basket weave" ends in gold and red. Suitable for Cardinals. Italian made. Leadtime circa 7 days
Italia Range Pectoral Cord: IT-PECTC-02

Italia Range Pectoral Cross Cord. Green/Gold with tasselled and "basket weave" ends in gold and green. Suitable for Bishops. Italian made. Leadtime circa 7 days
Italia Range Pectoral Cord: IT-PECTC-03

Italia Range Pectoral Cross Cord. White/Gold with tasselled and "basket weave" ends in gold and white. Italian made. Leadtime circa 7 days
Italia Range Pectoral Cord: IT-PECTC-04

Italia Range Pectoral Cross Cord. Blue/Gold with tasselled and "basket weave" ends in gold and blue. Italian made. Leadtime circa 7 days
Italia Range Pectoral Cord: IT-PECTC-05

Italia Range Pectoral Cross Cord. Black/Gold with tasselled and "basket weave" ends in gold and black. Italian made. Leadtime circa 7 days
Italia Range Pectoral Cord: IT-PECTC-06

Italia Range Pectoral Cross Cord. All Gold with tasselled and "basket weave" ends in all gold. Italian made. Leadtime circa 7 days
Italia Range Pectoral Cord: IT-PECTC-07

Italia Range Pectoral Cross Cord. Deluxe Red/Gold with ornate tasselled ends in all gold and red. Italian made. Leadtime circa 7 days
Italia Range Pectoral Cord: IT-PECTC-08

Italia Range Pectoral Cross Cord. Deluxe Green/Gold with ornate tasselled ends in all gold and green. Italian made. Leadtime circa 7 days
Italia Range Pectoral Cord: IT-PECTC-09

Italia Range Pectoral Cross Cord. Red/Gold woven cord and circular style end with ornate tasselled ends in all gold and red. Italian made. Leadtime circa 7 days
Italia Range Pectoral Cord: IT-PECTC-10

Italia Range Pectoral Cross Cord. Green/Gold woven cord and circular style end with ornate tasselled ends in all gold and green. Italian made. Leadtime circa 7 days