Supplying customers throughout the UK and Worldwide...
Like and Subscribe on YouTube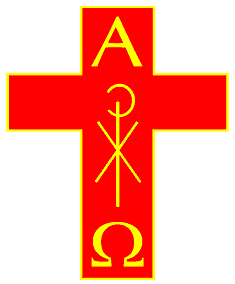 +44 (0) 1670 362647 / +44 (0) 7774 031055
Suppliers of church furnishings, consumables, garments and much more...
The pallium (derived from the Roman pallium or palla, a woolen cloak) is an ecclesiastical vestment in the Roman Catholic Church, originally peculiar to the Pope, but for many centuries bestowed by him on metropolitans and primates as a symbol of the jurisdiction delegated to them by the Holy See. In that context it has remained connected to the papacy.
Essentially the same garment is worn by all Eastern Orthodox bishops, and is called omophor.
​
The Pallium is hand made in Rome in the finest soft lambs wool fabric and hand embroidered and finished to create a fully bespoke item. Available with red or black embroidery, these are not to be confused with inferior or copied products available by some in the market - these are the genuine article, hand made in Rome and given out by the Holy Father. At present, only the pope, metropolitan archbishops, and the Latin Rite Patriarch of Jerusalem wear the pallium. When a pope or metropolitan dies in office, he is buried wearing the pallium. If a metropolitan (or, presumably, a pope) leaves his office before he dies, his pallium is rolled up and placed with him in his coffin.
​
To order only.



Italia Range Pallium - IT-PALLIO

Exquisite, hand made Pallium in pure white lambs wool. Choose from either black or red silk thread, hand applied embroidery.
​
Made to order in Italy - please allow circa 4 weeks
​Geniune product, hand made and finished in Rome.
As given out by the Holy Father.
Exclusive to North East Church Supplies.
Please note that these are not inferior reproductions made from cheap materials. These are the genuine article, made in Rome and given out by the Holy Father.
We also offer a range of beautiful Italian Pallium Pins to completement your purchase - please see the above menu
(To order only)